Laboratory Information Management System (LIMS)
Fast and reliable!

F.E.I.S. - Food & Environmental Information System Laboratory Information Management System (LIMS)
It is a laboratory information management system (LIMS software), aiming to support the collection of information in a laboratory and automate various tasks, such as customer management, order management, samples management, certificate publication.
Especially in F.E.I.S., the flow and collection of information is based on the
accreditation
of the laboratory. In other words, the software meets all requirements of the
system 17025
.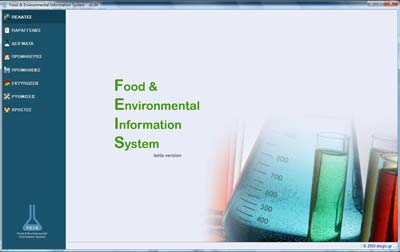 The information system includes the following functions:
Order Management
Sample Management
Update medical examination results
Certificate publication
Customer data
Suppliers
Data warehouse
Statistics / Prints
Laboratory Users
Backup
The application is addressed to:
Chemical & Microbiological Laboratories
Municipal Water Agencies
Food Industries
The program was successfully installed at the Hygiene Laboratory, of Medicine Department at University of Patras.
For further information please
contact us
.